Our Sisterhood is a caring family of women of all ages bonding together in our mutual love of Judaism, our Temple, and its community. Sisterhood reaches out to our community by offering a wide variety of programs—both social and educational. In addition to the programs they offer, Sisterhood is a vital component of the Temple's community by its continued support of projects and donations of gifts to the Temple and our Religious School. Please join our Sisterhood family and share the feelings of friendship extended to all its members.
Shana Tovah from
Temple Isaiah Sisterhood!
We wish everyone a
Sweet New Year
Save the date after the holidays:
TI Sisterhood's Welcome Back Brunch
              Date: Sunday September 19th
              Time: 9:30 am
              Place: Outdoors in the Temple Isaiah Courtyard*
              Food: Individually wrapped bagels, toppers and dessert
*We will be following Temple Isaiah's Covid guideline mandates. Updates regarding alternate plans due to the covid situation or inclement weather rescheduling will be announced. All Welcome! Get to Know us!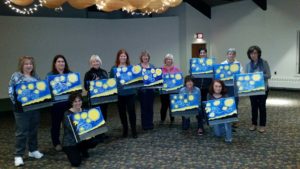 Some of the major activities that Sisterhood sponsors throughout the year are:
Welcome Back Brunch
Rummage Sales
Miriam's Seder
Sisterhood Led Shabbat
Sisterhood Gift Shop 
Sisterhood stocks and maintains two showcases in the Temple lobby. Items are available for sale weekdays during office hours. On the weekend, please contact a member of the Sisterhood Board. Additional items can be specially ordered.
Join Sisterhood
Please contact Paula: pbennett100@gmail.com or
Eileen: ebdonnel@optonline.net