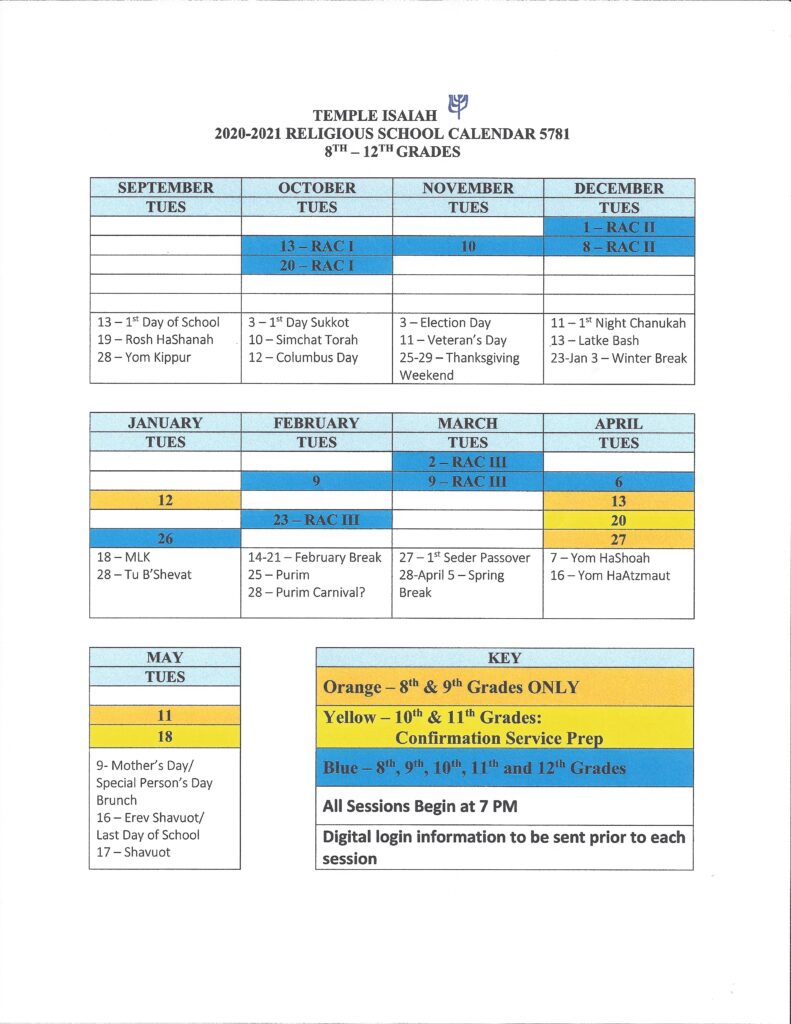 Dear 8-12 Grade Students and Parents:
Welcome back to Temple Isaiah Religious School.  This year in our Post-B'nai Mitzvah/Confirmation program, we have a unique opportunity to participate in a national program, along with other teens from all over the country, sponsored by the Religious Action Center of Reform Judaism (RAC).  This Social Justice Academy is comprised of three units divided into seven sessions between October and March, and it will make up much of our curriculum for the school year.
Because of the nature of this program, families will need to complete an additional online registration through the RAC.  Please review the attached registration instruction sheet for full details on how to do this, including the details that you will need to complete the online registration.  It is critical that you do so before the October 1, 2020 deadline.  When you get to the question regarding payment, please check the box that indicates that your synagogue, Temple Isaiah will be covering all costs for this program!
Due to the timing of this program, our session dates and times will be slightly different from past years.  We will still convene on Tuesday evenings, but rather than begin at 6:30 pm with food (which we hope to be able to do when we eventually get back into our building), all sessions will begin promptly at 7:00 pm for as long as we convene by means of a Distance Learning model.  Those meetings that we participate in the RAC program, class sessions will run between 75 and 90 minutes, as they will be administered by program staff in the Washington DC area.  All other sessions, which will be facilitated by our clergy and other local educators, will run approximately one hour.  Students will be provided with the appropriate links prior to the beginning of our sessions, so please be sure that we have updated contact information on file.
In addition to the time change, we must move away from the every-other-week model to accommodate the Social Justice Academy schedule. Please be sure to check the class calendar regularly so that you do not miss a session.  I have also set up a Remind Class which you can subscribe to via Remind.com or the Remind app.  Our classroom code is: @tisb8-12.  I encourage all students and parents to join this group, and I will do my best to send you reminders and links before each session.
If you have any questions, please do not hesitate to contact me at your earliest convenience. The best way to reach me at this time is via email: RabbiMC@templeisaiahsb.org.  If you prefer a phone call, please send me an email with your phone number and the best times to call you back.
We look forward to spending time with you and your teens during this unique, yet exciting year.  Please do not forget to register for the RAC program before October 1!
Wishing each of you a Shanah Tovah as we approach not only a new school year, but also our new Jewish calendar year.
Rabbi Michael S. Churgel, RJE