TEMPLE ISAIAH WELCOMES YOU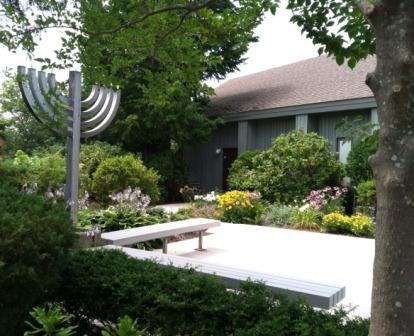 Temple Isaiah of Stony Brook is a Reform Jewish community with about 275 family and individual members.  More than a congregation, for many members we are a big, extended family.  We offer many fine religious, cultural, educational, and social-action programs catering to a wide variety of interests.  Let us tell you a little about our special place and the special people you will meet here.
Temple Isaiah Family Service
We are looking into creating a Shabbat Family Service and need your input. Please click on the link below to complete a very short survey. Thank you!
"MISHKAN HANEFESH CAMPAIGN"
a Beautiful New High Holy Day Machzor
Please be part of our Initiative! We need YOU to make this happen!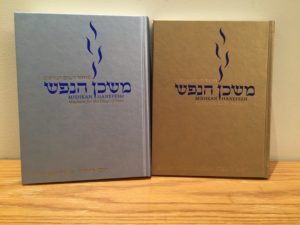 Suggested Donation Levels
$108 , $180, $360, $540, $1,080, $1,800, $3,600, $5,400, and any other amount.
Contributions of $108 or above will receive bookplates for dedication; donations of $500 or more
will be acknowledged on a permanent plaque in our Temple.
Please contact the office for more details or to make a donation.
631-751-8518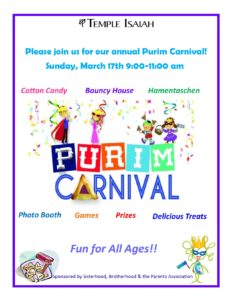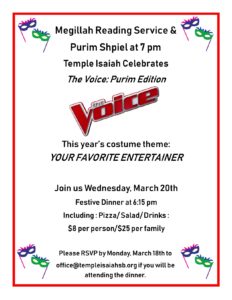 Get Connected
Miriam's Seder– an inclusive experience for everyone, men, women and young adults (grades 5 and up)

Sunday, April 7th 5:30-7:30 pm

This Seder is a potluck event. $5 pp, max $18 per family. We ask that each participant bring a "Passover Style" non-dairy and nut-free dish to share and a non-perishable food item for Temple Isaiah's food pantry. Ritual foods and a main course of chicken will be served. Please sign up on www.perfectpotluck.com with the dish you would like to bring (meal coordinator is Paula Bennett, meal password is Miriam).

Please RSVP no later than Wednesday, April 3rd to Paula Bennett at pbennett1000@gmail.com.

**If you are available to help set up, help during the Seder or help clean up, please contact Paula and let her know. 

 

Upcoming Events:

IMPROV NIGHT April 6th at 8:15 pm at North Shore Jewish Center, Norwood Road, East Setauket, NY. Join Temple Isaiah Brotherhood & North Shore Jewish Center for darts and bar games, then see a professional improv troupe perform. Bar snacks, beer and wine will be served. $36 per person before 4/1/19. $40 after 4/1/19. Please contact Harold Guberman at 631-708-7293 or the Temple office 631-751-8518 to RSVP.

PURIM CARNIVAL, Sunday, March 17th

and much more!

Please click on the link for Brotherhood's Scholarship applicationBrotherhood scholarship


Click on the link to join:Temple Isaiah Brotherhood app 2019


Looking to get connected with all our Religious School activities,

please contact Ilene mamallama2@optonline.net  or Ellen ellenflaxmancovino@yahoo.com, to join the fun.

Social Action News:

Join us on Sunday, April 7th for "Memory Lane" from 2-4 PM.