TEMPLE ISAIAH WELCOMES YOU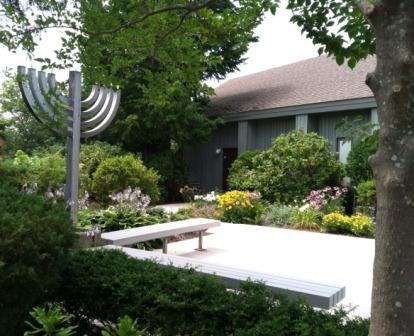 Temple Isaiah of Stony Brook is a Reform Jewish community with about 275 family and individual members.  More than a congregation, for many members we are a big, extended family.  We offer many fine religious, cultural, educational, and social-action programs catering to a wide variety of interests.  Let us tell you a little about our special place and the special people you will meet here.
UPCOMING EVENTS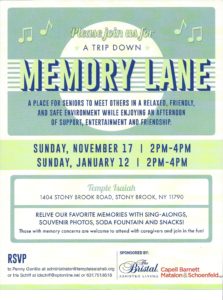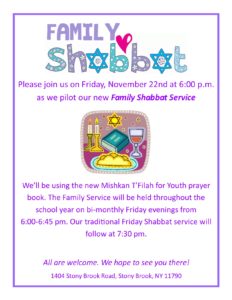 Please see the evite for a Congregational Dinner hosted by the Parents' Association, to take place between the Family Service and Traditional Service on Fri., Nov. 22.  All members of the congregation are welcome and encouraged to attend!
Evite:Community Shabbat Dinner
 Interfaith Thanksgiving Service (child & youth friendly),
Tuesday, November 26th at 7 pm,
Unitarian Universalist Fellowship of Stony Brook, 
380 Nicholls Road, E. Setauket, NY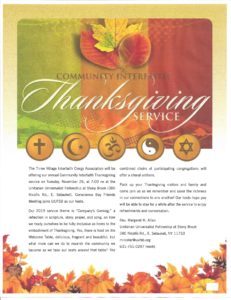 Get Connected
Get connected with our Religious School activities:

please contact Becca Stern rlbrandell@yahoo.com  or Ellen ellenflaxmancovino@yahoo.com to join the fun.

SOCIAL ACTION: NOVEMBER-DECEMBER 2019         

Torah study has value when it inspires us to make the world a better place. It is then that we are partners with God. 

Our Social Action Committee, with the support of all arms of our Temple is involved in hands–on and short term social action projects throughout the year. The High Holy Day food drive enabled us to donate to the Island Harvest Food Bank which will distribute the food for us. It is a good feeling to begin our Jewish New Year with a mitzvah. Thank you, Howard Stern for again letting us use one of your trucks!

On Sunday afternoon, September 15th our "Down Memory Lane" event was a huge success with live entertainment and delicious refreshments. We brought lots of smiles and joy to people suffering from varying degrees of dementia as well as their caretakers. Our egg creams, as usual were a big success, and this time Rabbi Paul jumped in to help us make them so they could be distributed to our large crowd!  Cantor Marcey took photos with her Polaroid camera and distributed them to all the couples as souvenirs. They loved them!  We'll be organizing similar events for November 17th and January 12th. Call Penny if you would like to attend with a friend or family member or if you know of others in the community who would enjoy the event. If you would like to help with our set up on those days, please contact me.

There are those who have come to depend on Temple Isaiah for a Thanksgiving basket. If you would like to help out with this project, please call Penny. We try to combine practical with fun/festive contributions to the baskets. If you would like to shop (nice to do with your children!) here are some suggestions: boxed stuffing mix, boxed instant potatoes, canned gravy, gravy mix packages, canned cranberry sauce, canned soup, canned vegetables, canned sweet potatoes, canned yams, pumpkin pie filling, fruit pie filling, pie crust, canned fruit, canned meat, gift cards (we try to include one in the basket) USE YOUR IMAGINATION TO HELP US CREATE A FESTIVE BASKET!

The Religious Action Center (RAC) of Reform Judaism encourages Reform Jews to attend events in our communities and around the country. "We must demonstrate publicly that the Jewish community will not turn its back on the refugees and asylum seekers arriving in our country, and our immigrant neighbors already here."

Please email me or call if you would be interested in joining with us in this kind of activism, or if you have specific thoughts about other Social Justice Activism. Iris Schiff, chair Social Action Committee, idschiff@optonline.net  631- 928-0971