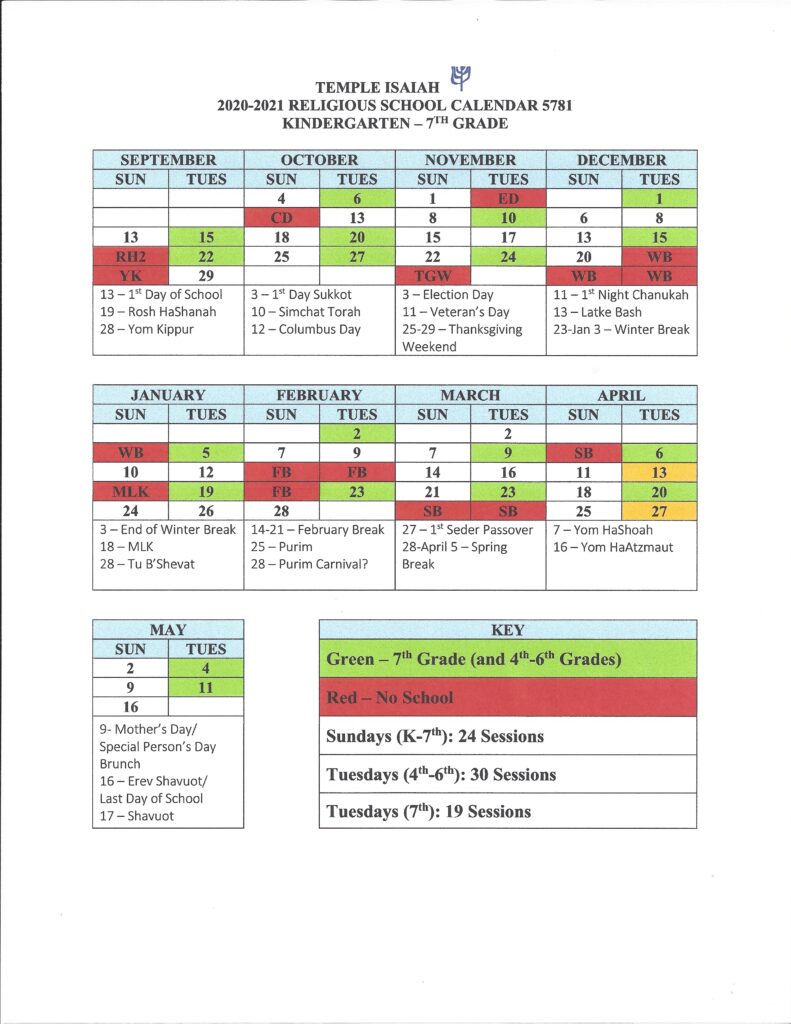 Dear K-7th Grade Religious School Families:
Welcome back to Temple Isaiah Religious School.  Attached to this note you will find our 5781 (2020-21) Religious School Calendar as well as our "Zoomin' with Temple Isaiah Religious School" document.  Please print out and/or keep a digital copy handy on the device(s) that your child(ren) will be using to log into class sessions and events.
The Religious School Calendar contains all of the session dates for this school year for both Sunday (K-7th grades) and Tuesday (4th-7th only) classes.  Holidays and vacation days are noted in Red highlighter and 7th grade Tuesday sessions are highlighted in Green.  Our opening day class session will begin on September 13 via Zoom at 9 AM for our K-3rd grade students and 9:30 AM for our 4th-7th grade students.  Parents are encouraged to join their children for the beginning segment of each week's session for our morning greetings, introductions, and blessings.  Please make it a habit to wake up and spend a few minutes with our community each Sunday morning.
The "Zoomin' With Temple Isaiah" document contains the specific times and Zoom login information for each grade level, including hyperlinks and Meeting IDs and Passwords for each day's session.  The links and codes will be active for as long as we convene on this platform.  Please do not share the codes/links with anyone outside of our Religious School community to avoid inviting "unwanted visitors" to our closed sessions.
When logging into a Zoom session on Sunday or Tuesday, please adhere to the following protocol:
Each student must use their own computer or tablet.  Please avoid using phones since screen size will be important when teachers share material on the screen.
For security purposes, students will need to log in with a verified Zoom login/registered account. This can be a parent's registered Zoom account.  If there are multiple children in the household, please try to create one Zoom account per child.
Please send us the login email that each child will use before Friday, September 11. If we have an email associated with a child, we can presort them into breakout rooms, saving us class time.  Be sure to send this information to Irva (school@templeisaiahsb.org) and cc: Rabbi Churgel (RabbiMC@templeisaiahsb.org) so we can create our database and upload to Zoom prior to the first session.
Screen Names for each student must present as follows: [Grade – Name: First Last]
Examples: 1–Esther Cohen;   4–Joseph Ben Jacob;   7-David Hamelech
Providing the grade number first will speed up the process of splitting the kids into their breakout classrooms (especially those who are not preassigned with an email address.)
Students must always have their cameras on and be prepared to turn on their microphones when requested.  Please do not allow your child to utilize distracting virtual backgrounds.
Each student should be in a quiet space free from distractions, if possible. For families with multiple children logging in simultaneously, each child should be in separate room so they do not experience an echo.
When a student first logs onto Zoom they will be placed in a waiting area until the host admits them into the main "lobby".  Please be patient if you are not admitted immediately.
Expect a few kinks the first session or two and compliment your teachers as they hone their skills in digital classroom management!
We had hoped to begin the school year with an in-person meet and greet on the first day.  Instead, we will attempt to do a special program on Sunday October 4 during Sukkot.  Stay tuned for details in the coming weeks.
In addition, we will be planning a way for each family to pick up their books and special goodies.  It is important that students have these tactile learning materials, in addition to some of the digital aides our teachers will utilize.  I will communicate with you soon on how we plan to distribute everything.
With respect to communications, thank you to those families who have joined our Temple Isaiah Religious School Remind and Facebook groups.  For those of you who have not yet subscribed to these communication platforms, please follow the instructions and links below:
Remind
Open your app at search for our class – @tisbrs, or
If you do not have the Remind app on your smartphone, open a browser on your smart device and type in: rmd.at/tisbrs
Facebook:
The "Temple Isaiah Religious School – Stony Brook, NY" Facebook Group will provide information about upcoming Religious School related events, recaps and highlights of class and school sessions, as well as relevant information and supplementary resources from around the "Jewish world": https://www.facebook.com/groups/tisbrs
If you have any questions, please do not hesitate to contact me at your earliest convenience. The best way to reach me at this time is via email: RabbiMC@templeisaiahsb.org.  If you prefer a phone call, please send me an email with your phone number and the best times to call you back.
The faculty and I look forward to spending time with you and your children during this unique, yet exciting school year.  Wishing each of you a Shanah Tovah as we approach not only a new school year, but also our new Jewish calendar year.  "See" you this Sunday!
L'shanah Tovah u'Metukah­ – for a good and sweet New Year,
Rabbi Michael S. Churgel, RJE