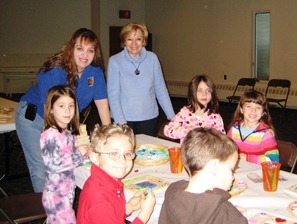 Temple Isaiah's Social Action Committee works with the Religious Action Center of Reform Judaism (RAC) to educate and mobilize our Jewish community on legislative and social concerns on issues ranging from Israel and Soviet Jewry to economic justice and social concerns, from civil rights to international peace and religious liberty. The Social Action Committee seeks to be informed about social, environmental and political issues and guides the congregation in ways of performing acts of Tikkun Olam [improving the world].
Some Social Action events that have become ongoing at Temple Isaiah include the following:
High Holy Day Food Drive—Empty bags are distributed on Rosh Hashanah and are returned on Yom Kippur. Food collected is used to stock local food pantries.
Blood Drives—Drives are held at Temple Isaiah periodically to help alleviate the critical shortages that Long Island often experiences.
Food Drives—The Social Action Committee often holds food drives to restock the Temple food pantry and to contribute food to other local food pantries.
Mitzvah Day—The Social Action Committee transforms Temple Isaiah every year by organizing projects and events that support local organizations, our environment, Israel, and much more.
Collections—As the needs arise, the Social Action Committee organizes collections of items. For example, in May and June, school supplies were collected for PRONTO, a Long Island organization. Warm coats were distributed to many local groups this winter through the generosity of our congregation. New members are always welcome.
Chai for Chayalim–Items for Chanukah and Passover are sent to soldiers in war zones.
For additional information, please contact:
Iris Schiff at irisschiff18@gmail.com