Please click the following link to learn more about this important project:
https://www.youtube.com/watch?v=MQGPedEX32M&feature=youtu.be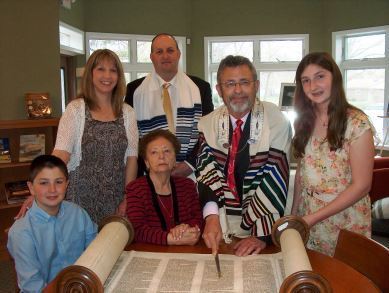 Our Holocaust Torah History
Our Torah came from the village of Nemecky Brod, Czechoslovakia. (The name was changed in 1945 to Havlickuv Brod.) In June 1942, 129 Jews from that area were deported to Terezin in one of three transports from Kolin. Eventually most were transported to extermination camps. When we read from our Czech Torah, we do so in memory of the Jews of Nemecky Brod, from 8-year old Vilemina Eiglovia to 88-year old Hedvika Vrbova and everyone who perished from that Jewish community, as well as all victims of the Holocaust. It is a testament to our Jewish survival!
The Nazis destroyed the Jewish presence in Czechoslovakia, but members from Prague's Jewish community devised a way to bring Nemecky Brod's Torah, along with 1,563 other scrolls, to the comparative safety of Prague. The scrolls were meticulously recorded with a description of each scroll and the places from which they came.
Dedication Opportunities
There are many levels at which congregants can support this project. Suggested dedication opportunities are outlined below. If there is something that has a special meaning to you, Rabbi Karol is available to assist you in selecting an appropriate verse or passage.
Entire Torah–$10,800
Book of Torah–$5,400
Parasha–$3,600
B'nai Mitzvah Portion–$1,800
Chapter–$720
Special Section–$360
Verse–$180
Word–$72
Letter–$36
Temple Isaiah's Torah Restoration project will allow us to perform the mitzvah of every generation – those who came before us and those yet to come – to protect and preserve these sacred writings. We are raising funds for the purpose of restoring our Holocaust Torah and for sustaining our house of worship for the generations that follow.
Just as the Torah has been handed down from generation to generation, L'dor Vador, we will join with family, friends and our Temple Isaiah community to remember our ancestors and create a legacy for our children.
Each person who makes a donation will be entitled to write one letter in the scroll by holding the quill along with Sofer Neil Yerman. Think about what a rare honor and privilege this will be!
Inscribing Our Torah is about community. Beyond the writing experience, there will be programming throughout the year designed to foster an understanding of Torah's place in our history and in our lives.
Our Year of Torah
Our Torah project will succeed financially as a result of the shared commitment of our Congregation and community. Just as all individual letters combine to form a finished Torah, each individual's generosity will combine to sustain our Congregation for generations to come.
i